An Interim Report on the Committee's Inquiry into Used Tyre Disposal
NIA 11/11-15, First Report of Session 2011-15
Author:

Northern Ireland Assembly: Committee for the Environment

Publisher:

TSO (The Stationery Office)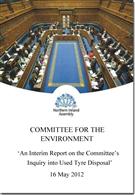 On 23 June 2011 the Committee for the Environment agreed to conduct an inquiry into the management of used tyres in Northern Ireland; 'An Interim Report on the Committee's Inquiry into Used Tyre Disposal (NIA 11/11-15)' sets out the Committee's consideration of evidence and its draft recommendations.
The Committee sought evidence from a wide range of stakeholders and approached councils to identify the nature and severity of any issues they had with used tyres, and what measures they had taken to address them over time.
Shortly after the Committee announced its inquiry, the Department for the Environment indicated that it would be initiating a Waste Data Survey to update its information on the numbers of tyres arising in Northern Ireland and their disposal.
The Committee agreed to defer making final recommendations until after the Department had completed its survey.