Fire Service Manuals - Volume 3: Fire Safety
The Office of the Chief Fire and Rescue Adviser (CFRA) was established in October 2007, following the appointment of the first Chief Fire and Rescue Adviser, Sir Ken Knight. The CFRA has replaced what was formerly HM Fire Service Inspectorate.
Fire Service Manuals: Volume 3 - PDF pack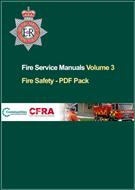 Save 20% with this PDF pack - containing a complete set of downloadable Fire Service Manuals for Volume 3: Fire Safety.
Available formats:
Fire Safety Engineering - A Basic Guide for Fire Authority Enforcement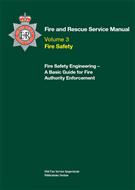 This manual provides a guide for fire authorities who act as enforcement agencies for the fire safety regulations and orders, and is particularly aimed at those officers who may not be familiar with the application of fire safety engineering in building designs
Available formats:
Fire Protection of Buildings
Basic Principles of Building Construction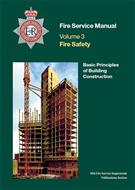 This volume of the Fire Service Manual replaces the previous Book 8. It also contains new sections dealing with fire safety generally. Chapter one provides an update of the present position in England and Wales, together with additional information applicable to Scotland.
Available formats: