Report on the Uptake of Benefits by Pensioners
NIA 45/11-15, Sixth Report of Session 2011-15
Author:

Northern Ireland Assembly: Public Accounts Committee

Publisher:

TSO (The Stationery Office)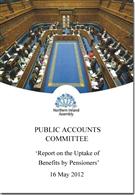 Almost 20% of Northern Ireland's 307,000 pensioners are classified as living in poverty according to 'Report on the Uptake of Benefits by Pensioners (NIA 45/11-15)', given that social security benefits make up a significant proportion of pensioners' income, ensuring that they receive their full entitlement to these benefits can help reduce this poverty.
The Department for Social Development (DSD) has run a series of annual benefit uptake programmes since 2005. Over this period, the department has targeted over 112,000 pensioners and generated an additional £23 million of benefits for successful claimants. However, the overall impact of actions to improve uptake cannot currently be measured, research work in this area must be initiated with immediate effect.
Two recent uptake initiatives: 'Make the Call' and a new 'Innovation Fund', have been welcomed and it will be important to track how they perform in order to draw out lessons for future uptake promotional activities.
Legislation permits the sharing of data for the purposes of identifying eligibility and improving uptake. The proposed introduction of legislative powers to share the personal data held by Her Majesty's Revenue & Customs (HMRC) carries huge potential, and priority must be given to progressing work in this area.
Benefit-paying agencies must work proactively and strategically with the voluntary and community sectors as a means of targeting hard-to-reach groups. Under welfare reform, there will be a move towards a single-tier pension and Housing Benefit will be abolished. It is therefore important that the benefit-paying agencies rigorously appraise the potential implications of these changes on uptake rates.
Find similar publications here: