Report on the Pensions Bill
NIA 40/11-15, First Report of Session 2011-2012 - Report, Together with the Minutes of Proceedings and Minutes of Evidence
Author:

Northern Ireland Assembly: Committee for Social Development

Publisher:

TSO (The Stationery Office)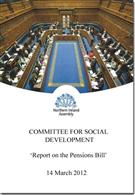 'Report on the Pensions Bill (NIA 40/11-15)' examines the proposals relating to the State Pension framework, in particular bringing forward the State Pension age of women to be equal to men by November 2018; and increasing the State Pension to age 66 by October 2020.
Further proposals included:
(a) the introduction of an "earnings trigger" to automatically enrol an employee in a workplace pension scheme;
(b) the use of a Consumer Price Index rather than a Retail Price Index as the measure of inflation; and
(c) a number of technical amendments relating to the operation of the Pension Protection Fund and changes to the definition of Money Purchase Benefits.
The Committee also held discussions on a wide range of issues relating to the Bill.
The key issues about which Members expressed their concerns were:
the impact on those women who will be delayed in receiving their State Pension as a result of bringing forward the date of the women's State Pension age in November 2018;

the proposed State Pension amount being below the stated poverty level in terms of Universal Credit;

the increase in State Pension age not being linked to the health profile of an individual (i.e. people may be living longer, but not necessarily healthier); and

the passported Winter Fuel Payment being linked to the pensionable age.
The majority of concerns that the Committee had were generally shared by all the members. Consequential amendments flow from the increase in State Pension age such as amendments to increase the upper age for Disability Living Allowance and Widow's Pension; the minimum age for Attendance Allowance; and State Pension Credit (Saving Credit).
Find similar publications here: