CAP 407 - Personal Flying Log Book
Aircraft Flying Crew
Author:

Civil Aviation Authority

Publisher:

Civil Aviation Authority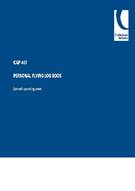 The 'CAP 407 - Personal Flying Log Book (Aircraft Flying Crew)' is for aircraft flying crew to fill in.
Contents:
Part 1: Instructions for use

Part 2: Personal details

Part 3: Name and address of present employer

Part 4: Particulars of licences held

Part 5: Record of licence endorsements

Part 6: Past experience

Part 7: Types of aircraft in which experience has mainly been obtained

Part 8: Record of flights

Part 9: Record of flight simulator training and practices
References to EU regulation or EU websites in our guidance will not be an accurate description of your obligations or rights under UK law. Read more about the UK/EU transition on the CAA website (opens in new window).
Find similar publications here: