World Development Report 2006
Equity and Developement
Author:

World Bank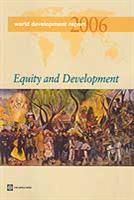 The 28th edition of this annual report, 'World Development Report 2006: Equity and Developement', focuses on the relationship between equity and development, using a definition of equity based on two key principles:
equal opportunities (that a person's life chances should be determined by his or her talents and efforts, rather than by pre-determined circumstances such as race, gender, social or family background)
the avoidance of extreme deprivation in outcomes, particularly in health, education and consumption levels
The report is organised into three sections which examine issues relating to inequity within and across countries; the reasons why equity is important in the development process; and options for increasing opportunities across a range of areas including education and health, access to land and equitable justice, trade, financial and labour markets.
The report's main message is that, in the long run, the pursuit of equity and the pursuit of economic prosperity are complementary. The report also contains selected economic and social data from the World Development Indicators 2005 for over 200 countries.
Find similar publications here: