Environment, Food & Rural Affairs Committee
Show me:
Reform of the EU sugar regime: second report of session 2005-06: Vol. 1 Report, together with formal minutes and lists of oral and written evidence
House of Commons papers 585-I 2005-06
Format:

Corporate Author:

Great Britain Parliament House of Commons Environment, Food and Rural Affairs Committee

Author:

Michael Jack (chairman)

Publisher:

TSO (The Stationery Office)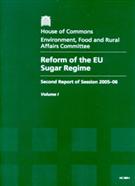 The current system of prices, production and import quotas for the EU sugar market, which has remained largely unchanged since its inception in 1968, is due to expire in June 2006. It has attracted criticism for its anomalous structure, especially given the reforms to other aspects of the CAP in 2003, and the fact that some elements have been declared illegal by the WTO has added to the pressure for change. Following on from an earlier Committee report on this topic (HCP 550-I, session 2003-04, ISBN 0215018257), this report examines the recent proposals by the European Commission to reform the regime, in the context of the wider Doha round of trade negotiations, focusing on the likely impact on sugar producers and processors in the UK and the wider EU, and the development of the UK Government's position on the proposals. The Committee's conclusions include support for the Commission's reform proposals to secure price reductions in order to bring the European sugar market into balance; and that the UK, in its role as EU President, should support the Commission in minimising any attempts to dilute the reforms.