Transport Committee
Show me:
Navigational hazards and the Energy Bill ninth report of session 2003-04 report, together with formal minutes, oral and written evidence
House of Commons papers 2003-04 555
Format:

Corporate Author:

Great Britain Parliament House of Commons Transport Committee

Author:

Dunwoody Gwyneth chairman

Publisher:

TSO (The Stationery Office)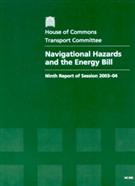 The Committee's report examines the implications for the ports and shipping industry of the renewable energy provisions in the Energy Bill (currently going through the House of Commons) which seek to facilitate the development of offshore wind energy. In particular, it examines the potential navigational hazards to shipping posed by badly sited offshore wind farm installations. Amongst the Committee's conclusions, it finds that policy development on off-shore renewable energy zones has shown departmental government at its worst, illustrating the lack of 'joined up government', and that the basic needs of the shipping industry have been ignored. The DTI, as the lead department for this policy, failed to involve other departments (such as the Department for Transport and DEFRA) at an early stage in order to ensure maritime industries and their safety bodies were adequately consulted in the strategic environmental assessments undertaken. As a result, many of the sites chosen for further evaluation as offshore installations may have serious impact on marine operations, in terms of communications and navigational issues. The Committee recommends that the next round of development needs to be better handled with proper consultation of maritime interests, and that commercial confidentiality should not compromise marine safety nor the country's economic interests.