Public Accounts Committee
Show me:
Transforming the performance of HM Customs and Excise through electronic service delivery twenty-fourth report of session 2003-04 report, together with formal minutes, oral and written evidence
House of Commons papers 2003-04 138
Format:

Corporate Author:

Great Britain Parliament House of Commons Committee of Public Accounts

Author:

Leigh Edward chairman

Publisher:

TSO (The Stationery Office)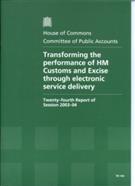 HM Customs and Excise have a target of being able to offer all of their services electronically by 2005, with a 50% take-up by March 2006. This e-programme is a considerable investment - £327 million over 10 years to 2010 with a further £250 million enhancement of the Departments existing IT infrastructure under a PFI agreement with Fujitsu. On the basis of an NAO report (HC 1267, 2002-03, ISBN 0102923736), the Committee took evidence on the implementation of the programme, the progress made in developing an electronic Vat service, and the PFI contract. Some of the conclusions are: the initial stages of the programme have not followed good practice; £100 million as been spent without a proper business case and there is not a comprehensive contingency plan to address the risk of systems failure; progress in providing an e-VAT service has been slow.