Public Accounts Committee
Show me:
Government Communications Headquarters (GCHQ) new accommodation programme twenty-third report of session 2003-04 report, together with formal minutes, oral and written evidence
House of Commons papers 2003-04 65
Format:

Corporate Author:

Great Britain Parliament House of Commons Committee of Public Accounts

Author:

Leigh Edward chairman

Publisher:

TSO (The Stationery Office)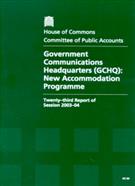 Following from a NAO report (HCP 955, session 2002-03; ISBN 0102922543) published in July 2003, the Committee examines the Private Finance Initiative (PFI) deal to build and service new accommodation for GCHQ on a single site for a 30-year period, estimated to be worth £489 million. It looks at the increase in the costs of the PFI deal after the selection of the preferred bidder, why GCHQ did not recognise the full scope and cost of technical transition as a co-ordinated programme, and whether the deal represents good value for money. The Committee's report criticises that fact that GCHQ entered into negotiations with a preferred bidder when key requirements had not been settled and priced, resulting in a price increase of 21 per cent by the time the contract was signed; as well as the failure to foresee that IT networking developments would require, in effect, a major systems upgrade.