Transport Committee
Show me:
National Rail Enquiry Service eleventh report of session 2003-04 report, together with formal minutes, oral and written evidence
House of Commons papers 2003-04 580
Format:

Corporate Author:

Great Britain Parliament House of Commons Transport Committee

Author:

Dunwoody Gwyneth chairman

Publisher:

TSO (The Stationery Office)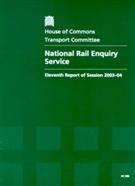 It is estimated that about 170,000 people call the National Rail Enquiry Service (NRES) every day, making it the busiest telephone number in Britain. The Committee's report looks at the quality of passenger information provided, as well as examining the implications of the decision to award contracts for provision of the NRES service to two suppliers, both of which have call centres based overseas. Issues discussed include: NRES structure and funding, service performance, the advantages and disadvantages of overseas outsourcing, the re-tendering process used to procure service suppliers and the impact on quality of information provision, and contingency planning aspects. The Committee's conclusions include that i) in the absence of any substantial evidence that foreign call centres will bring the cost savings and quality anticipated by the NRES, the Strategic Rail Authority should monitor closely the level of service quality and ensure all necessary steps are taken to maintain quality; and ii) ticket sales services need to be properly integrated with the enquiry service in order to avoid the customer having to be transferred between call centres for each part of the process.