Public Accounts Committee
Show me:
The public private partnership for National Air Traffic Services Ltd forty-eighth report of session 2002-03 report, together with formal minutes, oral and written evidence
House of Commons papers 2002-03 80
Format:

Corporate Author:

Great Britain Parliament House of Commons Committee of Public Accounts

Author:

Leigh Edward chairman

Publisher:

TSO (The Stationery Office)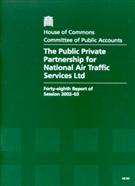 National Air Traffic Services (NATS) provides air traffic control for aircraft flying over the UK, and with its Irish counterpart, over the North East Atlantic. In July 2001, a Public Private Partnership (PPP) was agreed with the Airline Group, a consortium of seven UK-based airlines, giving them operational control and a 46 per cent share of NATS. Following on from a NAO report (HCP 1096, session 2001-02; ISBN 0102917450), the Committee's findings include that the Government too readily dismissed a not-for-profit model option for the privatised NATS (such as that used in Canada) in favour of establishing a profit-seeking regulated company, with regulatory arrangements copied from the regulated utilities. However, this decision failed to take sufficient account of the very different business risks which NATS faces. The Government also failed to adequately test the robustness of the Airline Group's proposed financial structure for NATS.