Science & Technology Committee
Show me:
Light pollution and astronomy seventh report of session 2002-03 Vol. 1 Report, together with formal minutes
House of Commons papers 2002-03 747-I
Format:

Corporate Author:

Great Britain Parliament House of Commons Science and Technology Committee

Author:

Gibson Ian chairman

Publisher:

TSO (The Stationery Office)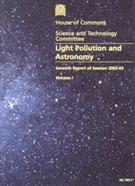 Due to the unpredictable weather conditions and the continuing encroachment of light pollution on British skies, the majority of professional astronomy now takes place outside of the UK. However, astronomy remains a growth academic subject, with an increasing number of students at GCSE, undergraduate and postgraduate level. This report highlights the importance of the amateur astronomy community in the UK, in providing important observational data for professional astronomers, and in introducing the subject to young future scientists through open day events at observatories and in schools. Amateur societies have also been instrumental in attempts to raise awareness of the problems caused by light pollution, amongst local authorities, government, retailers and the general public. The Committee's report provides recommendations on how light pollution can be controlled without reducing the levels of light needed for safe illumination of urban and rural environments.