Office of The Deputy Prime Minister Committee
Show me:
The effectiveness of government regeneration initiatives seventh report of session 2002-03 Vol. 1 report, together with the proceedings of the Committee
House of Commons papers 2002-03 76-I
Format:

Corporate Author:

Great Britain Parliament House of Commons ODPM: Housing, Planning, Local Government and the Regions Committee

Author:

Bennett Andrew F. chairman, committee Betts Clive chairman, Urban Affairs Sub-committee

Publisher:

TSO (The Stationery Office)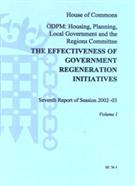 For the first half of the twentieth century urban improvements were mainly carried out by local authorities. Now it is mostly Government agencies who provide services and fund regeneration schemes via a host of initiatives. However there is evidence that this is not effective. The Committee is concerned that the single-issue initiatives skew local bids to meet short-term criteria rather than match real local needs. In addition the geographical boundaries of some initiatives can lead to uneven distribution and be divisive. The Committee therefore recommends that no more centrally driven national initiatives should be launched, instead local authorities should develop their own regeneration plans.. It is thought that such an arrangement would reduce the amount of underspend in the current system and also waste less administrative time.