Office of The Deputy Prime Minister Committee
Show me:
Local government finance formula grant distribution first report of session 2002-03 Vol. 1 Report and proceedings of the Committee
House of Commons papers 2002-03 164-I
Format:

Corporate Author:

Great Britain Parliament House of Commons ODPM: Housing, Planning, Local Government and the Regions Committee

Author:

Bennett Andrew F. chairman

Publisher:

TSO (The Stationery Office)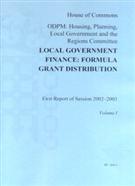 The Government announced a review of the revenue grant system in 1998, yet the first three years of that review were wasted. Work on the new funding formulae was carried out in the last year of the review, and many of the formulae do not appear to be evidence-based, are insufficiently robust and more judgmental than was previously the case. The slow development of the formulae had a paralysing effect on local government. The system remains complex. Census data are a fundamental driver of the local government finance settlement, and the Committee questions the reliability of the 2001 census figures. Another criticism is the inability to agree the best indicator for child poverty. The Committee also urges earlier announcement of changes to formulae, as that should allow smoother changes at the council level. A wider benefit of a simpler and easily-understood system might be to increase public participation in local government elections.