Civil Aviation Authority (CAA)
Show me:
CAP 493 Manual Of Air Traffic Services Part 1
4th Revised Edition, Consolidated with Amendments to November 2011
Author:

Civil Aviation Authority (CAA)

Publisher:

TSO (The Stationery Office)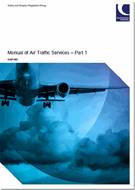 The Manual of Air Traffic Services contains procedures, instructions and information which are intended to form the basis of air traffic services within the United Kingdom.
It is published for the guidance of civil air traffic controllers and may also be of general interest to others associated with civil aviation.
References to EU regulation or EU websites in our guidance will not be an accurate description of your obligations or rights under UK law. Read more about the UK/EU transition on the CAA website (opens in new window).
Find similar publications here: