Generic Risk Assessment 5.6 Public Order - Violence And Aggression Against Fire And Rescue Personnel
Author:

Department for Communities and Local Government (DCLG)

Publisher:

TSO (The Stationery Office)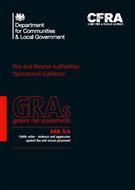 Generic risk assessment (GRA) 5.6 Public order - violence and aggression against fire and rescue personnel examines the significant hazards and control measures relating to threatened or actual:
Offensive behaviour

Abusive behaviour

Violence

A combination of all three towards fire and rescue personnel
Planned and/or spontaneous public order events are not separate types of incidents for the Fire and Rescue Authority, but it do potentially create a hostile working environment and additional hazards when fire and rescue personnel are working in these situations.
This generic risk assessment is focussed on:
Identified areas for potential violence and aggression towards fire and rescue personnel

Spontaneous events where fire and rescue personnel are already dealing with an incident and are subject, without warning, to violence and aggression. These can be isolated or a series of related or unrelated events over a wider area.
Find similar publications here: