Fire and Rescue Authorities Operational Guidance Generic Risk Assessment 3.10 Fighting Fires in Petrochemical Plant and Pipelines
Author:

Department for Communities and Local Government (DCLG)

Publisher:

TSO (The Stationery Office)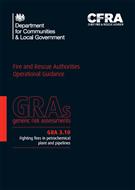 Generic Risk Assessment 3.10 applies to all Fire and Rescue Authority operations which involve petrochemicals and their derivatives.
The purpose of this assessment is not to address every conceivable hazard that may be presented, but to identify, evaluate and control the 'significant risks' which are specifically inherent with these particular incidents. The assessment is particular to firefighting, rescue or other operations, at locations where petrochemicals are processed or stored and include:
Oil refineries and other processing installations

Storage tanks of various types

Tank farms

Road tankers and rail cars

Pipelines
(This list is not exhaustive)
More information
For the purposes of this generic risk assessment a tunnel or underground structure is defined as a natural or manmade structure, where all or part is below ground level or covered, to where people can resort to for work, pleasure or transit. This includes underpasses, or any associated shafts, but excludes basements. The locations can range from a strategic transport tunnel such as the Channel Tunnel to a utilities tunnel that may allow for occasional access for maintenance purposes.
This GRA is supplied as a loose-leaf document. A binder pack containing an introduction to the series, foreword by Sir Ken Knight, contents and dividers is available to order separately. The binder is the ideal solution for storing the loose-leaf GRAs.
Find similar publications here: