British Gambling Prevalence Survey 2007
Author:

NatCen (National Centre for Social Research) / Gambling Commission

Publisher:

National Centre for Social Research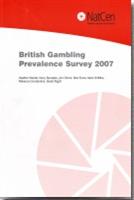 The British Gambling Prevalence Survey is a survey of participation in gambling and the prevalence of problem gambling in Great Britain. It was undertaken to improve understanding of the nature and scale of gambling in Great Britain previous to the implementation of the Gambling Act 2005 on 1 September 2007.
The survey was commissioned by the newly created Gambling Commission, as part of their commitment to keeping crime out of gambling, ensuring gambling is conducted fairly and openly, and protecting children and vulnerable people from harm from gambling. It was independently carried out by the National Centre for Social Research.
The research covers:
Participation in gambling activities, including the finding that 68% of adults participated in gambling of some kind last year.

The prevalence of problem gambling, finding that 0.6% of the adult population has a problem with gambling.

Attitudes to gambling, reporting an average view that gambling is harmful for individuals and society.
Find similar publications here: