Merchant Shipping Notices, Marine Guidance Notes and Marine Information Notes
Consolidated to August 2019
Author:

Maritime and Coastguard Agency (MCA)

Publisher:

TSO (The Stationery Office)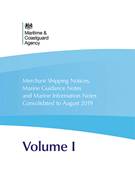 The consolidated to August 2019 edition incorporates the three series of Merchant Shipping Notices (MSNs), Marine Guidance Notes (MGNs) and Marine Information Notes (MINs).
These notices publicise important safety, pollution prevention and other relevant information to the shipping and fishing industries.
This publication supersedes the previous edition: Merchant Shipping Notices, Marine Guidance Notes and Marine Information Notes - Consolidated to September 2017, ISBN: 9780115535673.
Key Features:
Merchant Shipping Notices - MSNs are used to convey mandatory information that must be complied with under UK legislation. These MSNs relate to Statutory Instruments and contain the technical detail of such regulations.

Marine Guidance Notes - MGNs give significant advice and guidance relating to the improvement of the safety of shipping and of life at sea, and to help prevent or minimise pollution from shipping.

Marine Information Notes - MINs are intended for a more limited audience, e.g. training establishments or equipment manufacturers, or contain information that will only be of use for a short period of time, such as timetables for MCA examinations. MINs are numbered in sequence and have a cancellation date (which will typically be no more than 12 months after publication).
Find similar publications here: