Traffic Signs Manual Chapter 4: Warning Signs
Author:

Department for Transport (DfT)

Publisher:

TSO (The Stationery Office)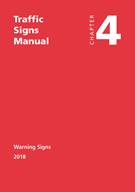 The Traffic Signs Manual Chapter 4: Warning Signs explains the use of the warning signs prescribed by the Traffic Signs Regulations. It enables the correct sign to be used, and advises on the appropriate size and siting to ensure adequate warning of the hazard.
The traffic signs manual gives guidance on the use of traffic signs and road markings prescribed by the Traffic Signs Regulations and covers England, Wales, Scotland and Northern Ireland.
Key topics
Junctions

Deviation of Route

Road narrows

Two-way traffic and dual carriageway roads

Hills

Bridges and other structures

Traffic signals

Pedestrians

Animals and farm traffic

Water

Road surface

Road humps

Low-flying aircraft

Falling or fallen rocks

Hazard markers

Other Danger

Distance Plates

Slow-moving vehicles

Level crossings

Cycling

Refuge beacon
More information
This publication supersedes the 2013 edition (ISBN 9780115532245).
Find similar publications here: