Maritime & Coastguard Agency (MCA)
Show me:
Behaving Safely
A practical guide for risky work
Author:

Maritime Coastguard Agency (MCA)

Publisher:

TSO (The Stationery Office)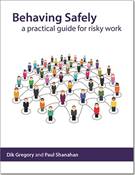 Do you do a dangerous job? Do you work in the front line of an industry where safety is critical? Do you understand how your own behaviour affects your safety and the safety of everyone else around you? Do you know how to increase safety for yourself, your team members, your organisation and your family?
Most of the time, things go right. Sometimes they can go very wrong. The trick is to understand how both good and bad events are rooted in our behaviour. Learning more about why you do what you do will give you the power to increase the safety of everyone you care about.
This pocket guide is full of insights and practical guidance about what makes you safe and what you can do to make things safer as you go about your everyday tasks.
Keep it with you. Dip into it. Use it. And above all, make sure you always go home to your friends and family, safe and sound.
Find similar publications here: