Technical Handbook 2010 - Non-domestic Handbook
Loose-leaf Contents and CD-ROM
Author:

Building Standards Division of the Scottish Government

Publisher:

TSO (The Stationery Office)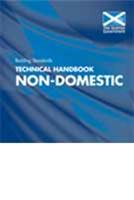 The Technical Handbooks provide guidance on achieving the standards set in the Building (Scotland) Regulations 2004 and are available in two volumes, for Domestic Buildings and for Non-Domestic Buildings.
Amendments to building regulations come into force on 1st October 2010 and the revised guidance in the new 2010 Building Standards Technical Handbooks provides ways of complying with the standards. There have been changes made to all the section within the handbooks and these will apply to building warrant applications from that date.
Sections One to Six give guidance on how to achieve the standards set by the regulations, and there are different sets for Domestic Buildings and Non-Domestic Buildings. The six sections each cover a number of related standards. They are:
Section 1 - Structure

Section 2 - Fire

Section 3 - Environment

Section 4 - Safety

Section 5 - Noise

Section 6 - Energy.
Find similar publications here: