OPCS Classification Of Interventions And Procedures Version 4.9 (2020) Volume I and II
Author:

NHS Digital

Publisher:

TSO (The Stationery Office)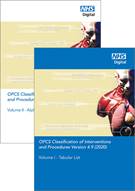 This pack contains Volume I - Tabular List and Volume II - Alphabetical Index.
Developments in healthcare and the increasing diversity of interventions and procedures mean that any classification system can rapidly become out of date. The enhancements provided in OPCS 4.9 continue to reflect changes to clinical care in recent years, and enable to better describe interventions and procedures. As a result the enhanced classification will further improve the quality of coded clinical data.
Key features
NHS discount available. For further information, please contact us with your NHS staffing details by email nice@tso.co.uk or call +44 (0)3332025070.
Find similar publications here: