National Clinical Coding Standards - OPCS-4 (2017) Reference Book
Author:

NHS Digital

Publisher:

TSO (The Stationery Office)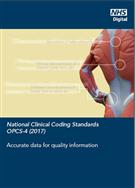 The OPCS Classification of Interventions and Procedures (OPCS-4) is a statistical classification of interventions and procedures undertaken in the National Health Service (NHS) reflecting current clinical practice. OPCS-4 is an approved NHS Fundamental Information Standard.
This reference book of national clinical coding standards is an evolving product and builds on the previously issued OPCS-4 Clinical Coding Instruction Manual. As the main emphasis of clinical coding is data quality and accuracy this reference book will focus on the clinical coding standards that must be applied when assigning OPCS-4 codes.
Key features:
The national clinical coding standards provide a reference source primarily aimed at clinical coders. The level of detail reflects the assumption that users will be trained in the use of the OPCS-4 classification as well as the abstraction of relevant information from the medical record. Authorised amendments to the reference book are compiled and issued only by NHS Digital - Clinical Classifications Service.
The classification is mandatory for use by Health Care Providers to support various forms of data collections, such as Central Returns and Commissioning Data Sets (CDS). All Consultant Episodes (hospital provider) containing procedures must be recorded and collected using OPCS-4. The requirements for data sets and related definitions are specified in the NHS Data Model and Data Dictionary.