Serious Crime Act 2007
Elizabeth II – Chapter 27
Author:

Great Britain

Publisher:

TSO (The Stationery Office)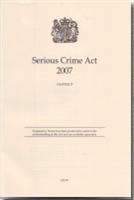 The 'Serious Crime Act 2007: Elizabeth II – Chapter 27' received Royal Assent on 30 October 2007. It is an Act to make provision about serious crime prevention orders; to create offences in respect of the encouragement or assistance of crime; and to enable information to be shared or processed to prevent fraud or for purposes relating to proceeds of crime.
The Act also makes provision:
to enable data matching to be conducted both in relation to fraud and for other purposes;

to transfer functions of the Director of the Assets Recovery Agency to the Serious Organised Crime Agency and other persons and to make further provision in connection with the abolition of the Agency and the office of Director;

to amend the Proceeds of Crime Act 2002 in relation to certain investigations and in relation to accredited financial investigators, management receivers and enforcement receivers, cash recovery proceedings and search warrants;

to extend stop and search powers in connection with incidents involving serious violence;

to make amendments relating to Her Majesty's Revenue and Customs in connection with the regulation of investigatory powers; and

for connected purposes.
Explanatory Notes have been produced to assist in the understanding of this Act and are available separately as 'Serious Crime Act 2007: Elizabeth II – Chapter 27 – Explanatory Notes' (ISBN 0105627070, available below).