Mental Health Act 1983 (Reprinted July 2003, August 2005)
Elizabeth II - Chapter 20
Author:

Great Britain

Publisher:

Her Majesty's Stationery Office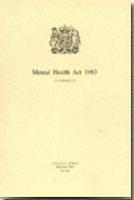 The 'Mental Health Act 1983: Elizabeth II - Chapter 20' received Royal Assent on 9 May 1983. It is an Act to consolidate the law relating to mentally disordered persons.
Divided into 10 parts:
Part I - Application of Act

Part II - Compulsory Admission to Hospital and Guardianship

Part III - Patients Concerned in Criminal Proceedings or Under Sentence

Part IV - Consent to Treatment

Part V - Mental Health Review Tribunals

Part VI - Removal and Return of Patients within United Kingdom, etc.

Part VII - Management of Property and Affairs of Patients

Part VIII - Miscellaneous Functions of Local Authorities and the Secretary of State

Part IX - Offences

Part X - Miscellaneous and Supplementary.