Corporate Manslaughter and Corporate Homicide Act 2007
Elizabeth II – Chapter 19
Publisher:

TSO (The Stationery Office)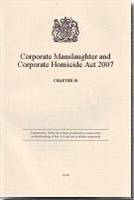 'Corporate Manslaughter and Corporate Homicide Act 2007: Elizabeth II – Chapter 19' makes provision for a new offence of corporate manslaughter (or corporate homicide in Scotland). It builds on the key aspects of the common law offence of gross negligence manslaughter but does not require the identification of a 'directing mind'.
The aim of the Act is to make it easier to prosecute organisations when their gross negligence leads to death, with the new offence focused on corporate liability and not applicable to individual directors or others. Prosecutions against individuals will continue to be possible for existing offences – including manslaughter/culpable homicide and health and safety offences – where they themselves are personally at fault.
The Act consists of 16 sections:
Section 1 defines the offence and the sort of organisations to which it will apply.

Sections 2-7 identify the activities covered by the offence and the public bodies to which the offence will not apply.

Section 8 outlines factors for the jury to consider when assessing an organisations culpability.

Sections 9 and 10 make provision for remedial orders and publicity orders.

Sections 11 to 13 deal with the application to the Crown and police forces.

Section 14 accomodates partnerships.

Section 15 makes further provision for the application to Crown bodies.

Section 16 sets out liability following changes in the machinery of government.