Lords Select Committees
Show me:
Correspondence with ministers: June 2004 to February 2005 4th report of session 2005-06
House of Lords papers 16 2005-06
Format:

Corporate Author:

Great Britain Parliament House of Lords European Union Committee

Author:

Grenfell Julian Grenfell Baron chairman

Publisher:

TSO (The Stationery Office)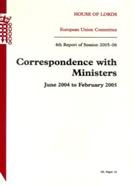 This occasional publication contains correspondence, including ministerial replies, relating to the work of the House of Lords European Select Committee and its sub-Committees, as part of its scrutiny of policy matters. It covers the period from June 2004 to February 2005 and includes the text of letters sent and received together with any supporting material. It gives a list of documents by Council document number where available, as well an an index of contents.
Find similar publications here: