PRINCE2® Pocketbook - Online Subscription
Author:

AXELOS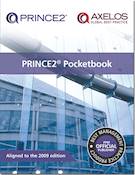 This pocketbook online subscription is in line with the PRINCE2 5th edition 'Managing Successful Projects with PRINCE2'. It has been produced as a reference tool for the trained PRINCE2 Practitioner who is assumed to be familiar with the method and the terminology. This title should be used in conjunction with Managing Successful Projects with PRINCE2 which contains full details of the method.
PRINCE2 (Projects in Controlled Environments) is an easy to follow structured project management method suitable for any type of project. The processes and techniques in PRINCE2 will help your project team cope with the risks, challenges and opportunities of today's rapidly changing environment.
Key Features
Handy reference guide to coincide with the PRINCE2 manual

Updated inline with PRINCE2 5th edition

A well structured format to make it easy to use.
Price quoted below is for single user access. To discuss multi-user access and the packages available, please contact our dedicated digital sales team on: email digital@tso.co.uk ; or telephone: +44 1603 696675.
An Online Subscription gives you access to the latest authoritative text. Functionality includes:
Dynamic content

Easy navigation

Bookmarking

History

Cross-linking between chapters
Extent
TBC
Sub. No.
7003205
Size
TBC
Price

£3.50

Format
Online Subscription
Frequency
Annual
Availability

Available to order