The International Carriage Of Dangerous Goods By Road (ADR) 2021
Two volume paperback
Author:

United Nations

Publisher:

UN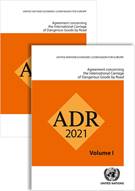 This revised version is based on changes applicable from 1 January 2021.
It contains new or revised provisions concerning in particular the transport of electrical storage systems (including lithium batteries installed in goods transport units and defective batteries), medical waste and radioactive materials.
The COVID-19 pandemic has led to an increase in demand for medical gases (particularly medical oxygen), which, along with infectious, hazardous or radioactive substances are being transported with special care and are covered in this edition.
The Agreement concerning the International Carriage of Dangerous Goods by Road (ADR) is an important trade facilitation tool and thus helps reduce the risk of protectionism. Except for dangerous goods which are totally prohibited for transport, and except when transport is regulated or prohibited for reasons other than safety, the international transport of dangerous goods by road is authorized by ADR in the territories of the Contracting Parties, provided that the provisions of the agreement are respected.
As a Contracting Party, during the transitional and post-Brexit period, the United Kingdom will continue to apply ADR requirements.