2007: A Space Policy
HC 66-I, Seventh Report of Session 2006-07 – Volume I: Report, Together with Formal Minutes
Author:

House of Commons – Science and Technology Committee
[?ProductPublisher:?]
Price:
[?DiscountedPrice:?]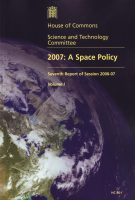 '2007: A Space Policy (HC 66-I)' examines current UK civil space policy, including: the forthcoming Space Strategy 2007-2010; the way in which space activities are organised through the British National Space Centre (BNSC) partnership and whether this partnership should be replaced by a space agency; international relations; the UK's role in the European Space Agency (ESA); and the opportunity for bilateral missions.
Other issues examined include:
government support for the space industry in the UK through the ESA programme, national programmes, and alternative funding mechanisms;

space science and technology;

the development and exploitation of technology;

Earth observation programmes such as the ESA Global Monitoring for Environment and Security (GMES) programme;

satellite navigation, particularly the Galileo programme, and telecommunications;

robotic and manned exploration, space tourism and launchers; and

the impact of space in education, the co-ordination of space activities, and outreach work.
The Committee's report identifies areas of concern relating to organisational structures, funding and co-ordination of space activities, but also notes the impressive range of activities undertaken by the UK space sector and highlights the opportunities for the UK to lead developments in emerging areas such as exploration, satellite navigation, and Earth observation.
The accompanying '2007: A Space Policy (HC 66-II) – Volume II: Oral and Written Evidence', ISBN 0215035097, is available to buy separately (see below).
| | | | |
| --- | --- | --- | --- |
| Extent | 157 pages | Sub. No. | |
| Size | A4 | Price | [?DiscountedPrice:?] |
| Format | Paperback | | |
| Availability | [?AvailabilityAlt:?] | Delivery | Delivery options and charges |