Civil Aviation Authority (CAA)
Show me:
CAP 168 - Licensing Of Aerodromes
Edition 10
Publisher:

TSO (The Stationery Office)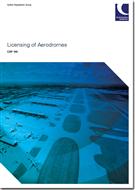 CAP 168 Tenth Edition supports the discretionary powers realting to the grant of an aerodrome license contained in the Air Navigation Order; it is a complete re-issue and replaces previous editions.
Changes to CAP 168 include:
Submissions of aerodrome manual amendments prior to the aerodrome audit;

Rearranged Low Visibillity Procedures (LVPs) contentwith new guideance material providing clarity on LVP operations;

Additional information regarding the use of Engineered Material Arresting Systems

Changes to Runway End Safety Area and Take Off Run Available to remove obsolete guidance
References to EU regulation or EU websites in our guidance will not be an accurate description of your obligations or rights under UK law. Read more about the UK/EU transition on the CAA website (opens in new window).
Find similar publications here: