Generic Risk Assessment 2.1.4 - Rescues from Confined Spaces - Collapsed Structures
Author:

Department for Communities and Local Government (DCLG)

Publisher:

TSO (The Stationery Office)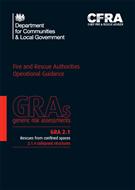 Generic Risk Assessment 2.1.4 relates to the foreseeable hazards and risks associated with collapsed structure incidents attended by Fire and Rescue Authorities. It provides a starting point for Authorities to undertake their own assessments within the context of local conditions and existing organisational arrangements.
Depending upon the circumstances, buildings of the same class and type of construction may collapse in different ways. Collapsed structures may contain voids in which trapped persons can survive for comparatively long periods of time. To understand where these refuges may occur, it is necessary to be aware of the characteristics of various types of construction. Structures may be divided into the four classes:
Framed buildings

Unframed buildings

Structures other than buildings

Bridges

Monuments

Tunnels

Piers

Railway infrastructure

Leisure facilities and stadia

Temporary structures

Scaffolding

Fair grounds

Cranes

Temporary stands at events, particularly where large numbers of the public are present
More information
The Fire and Rescue Authority may attend incidents where it is necessary for personnel to operate under or near high. This GRA is supplied as a loose-leaf document. A binder pack containing an introduction to the series, foreword by Sir Ken Knight, contents and dividers is available to order separately. The binder is the ideal solution for storing the loose-leaf GRAs.
Save time with a Standing Order
Ensure you receive each of the GRA sections upon publication by setting up a standing order, available as A4 loose-leaf standing order (includes the binder pack). Set up a standing order today by email: subscriptions@tso.co.uk, fax: +44 (0)870 600 5533 or by writing to TSO, Standing Orders Dept, PO Box 29, Norwich, NR3 1GN.
Find similar publications here: