Fire and Rescue Authorities Operational Guidance Generic Risk Assessment 5.1 - Incidents Involving Electricity
Department for Communities and Local Government (DCLG)
Publisher:

TSO (The Stationery Office)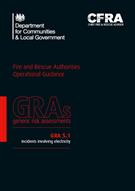 Generic Risk Assessment 5.1 examines the hazards, risks and control measures relating to fire and rescue personnel, the personnel of other agencies and members of the public when dealing with incidents involving electricity.
This Generic Risk Assessment relates to two basic types of incident:
Fires in equipment, premises or sites using, distributing or producing electricity

Rescue of casualties in contact or within close proximity to live electrical equipment
Even low domestic voltage can be fatal; therefore it is vital crews work safely at all times in the vicinity of electricity wires, photovoltaic cells and electricity sub-stations. Incidents involving electricity cables are on the increase, particularly the malicious ignition and theft of cables above ground.
More information
The Fire and Rescue Authority may attend incidents where it is necessary for personnel to operate under or near high voltage electrical installations that include power lines, pylons and ground installations. At all incidents personnel must consider either that electricity cables or installations may be involved, or be in close proximity.
This GRA is supplied as a loose-leaf document. A binder pack containing an introduction to the series, foreword by Sir Ken Knight, contents and dividers is available to order separately. The binder is the ideal solution for storing the loose-leaf GRAs.
Find similar publications here: