Generic Risk Assessment 4.1 – Incidents Involving Transport Systems - Road
(A4 Loose-leaf)
Author:

Department for Communities and Local Government

Publisher:

TSO (The Stationery Office)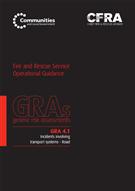 'Generic Risk Assessment 4.1 - Incidents Involving Transport Systems - Road' is part of a new series of GRAs that are the product of a 10 year consultation period. The GRAs in this series have been designed to safeguard fire and rescue personnel and members of the public.
GRA 4.1 is concerned with the hazards, risks and control measures that relate to any incidents attended by the Fire and Rescue Service (FRS) on roadways.
The FRS attends a large number of incidents involving roadways. The types of incident vary greatly but the majority involve fires and road traffic collisions. Activities relating to roads that involve other more specific significant hazards, for example explosives, are covered in other GRAs in this series.
Key features:
Significant hazards and risks

Key control measures

Personal protective equipment

Safe systems at work.
This GRA is supplied as an A4 loose-leaf publication. GRAs are also available to purchase as A5 bound publications. A binder pack containing an introduction to the series, foreword by Sir Ken Knight, contents list of all the new GRAs and dividers is available to order separately. The binder is the ideal solution for storing the loose-leaf GRAs. Please see below for details of the binder pack and other Generic Risk Assessments in the series - see below for more information.
Save time with a Standing Order
Ensure you receive each of the GRA sections upon publication by setting up a standing order, available as:
A4 loose-leaf standing order (includes the binder pack).

A5 bound standing order.
Set up a standing order today by email: subscriptions@tso.co.uk, fax: +44 (0)870 600 5533 or by writing to TSO, Standing Orders Dept, PO Box 29, Norwich, NR3 1GN.
Find similar publications here: