Generic Risk Assessment 3.3 - Fighting Fires in Domestic Chimneys
(A4, Loose-leaf)
Author:

Department for Communities and Local Government (DCLG)

Publisher:

TSO (The Stationery Office)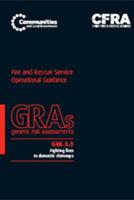 Generic Risk Assessment 3.3 - Fighting Fires in Domestic Chimneys is part of a new series of Generic Risk Assessments (GRAs) that is the product of a ten year consultation period. The GRAs have been designed to safeguard Fire and Rescue Service (FRS) personnel and members of the public.
This assessment examines the hazards, risks and control measures relating to Fire and Rescue Service personnel, the personnel of other agencies and members of the public when fighting fires in domestic chimneys, including similar structures in other buildings such as public houses. It also covers false chimneys.
Industrial chimneys pose specific risks and fall outside the scope of this generic risk assessment. This publication also does not cover fires in ducting and extraction units.
There are significant hazards and risks which face Fire and Rescue Service personnel at fires in domestic chimneys. Chapters within this GRA include:
Falling masonry and exploding chimney pots

Fire and smoke spread

Working on a roof/falls from height

Working within a roof space/falls from height

Blow back

Hazardous substances and materials

Access and egress

Ground conditions

Overhanging branches and overhead cables

Nesting insects/birds and vermin

Domestic back boiler explosion

False chimneys.
Depending on the nature and scale of the operational incident a variety of significant hazards may be present. Therefore contents of other specific Generic Risk Assessments may also need to be considered.
As with all GRAs, this assessment provides a starting point for each FRS to conduct their own assessments and produce their own Safe Systems of Work within the context of local conditions and existing organisational arrangements.
This GRA is supplied as an A4, loose-leaf publication. A binder pack containing an introduction to the series, foreword by Sir Ken Knight, contents, and dividers is available to order separately. The binder is the ideal solution for storing these loose-leaf GRAs.
This publication is also available to purchase as an A5 bound edition, making it both handy and portable.
Save time with a Standing Order
Ensure you receive each of the GRA sections upon publication by setting up a standing order, available as:
A4 Loose-leaf Standing Order (includes the binder pack)

A5 Bound Standing Order.
Set up a standing order today by email:subscriptions@tso.co.uk, fax: +44 (0)870 600 5533 or by writing to TSO, Standing Orders Dept, PO Box 29, Norwich, NR3 1GN.
Find similar publications here: