Praxis Framework - An integrated guide to the management of projects, programmes and portfolios
Paperback
Author:

Adrian Dooley

Publisher:

TSO (The Stationery Office)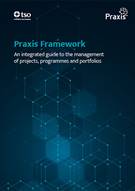 The Praxis Framework integrates project, programme and portfolio management into one single guide. It provides a comprehensive approach for effective project, programme and portfolio management within a single framework, removing the duplication and repetition of studying three separate approaches.
Praxis best practice is divided into four parts, providing guidance on:
Part 1: Knowledge - contextual and management functions.

Part 2: Method - processes and documentation.

Part 3: Competence - individual performance.

Part 4: Capability maturity - organisational performance.
Each part is easily adaptable to any context and, together, they will help organisations realise the benefits of successful project, programme and portfolio delivery and pave the way for sustainable change.
There is no such thing as a typical project, programme or portfolio and Praxis is not prescriptive in the way its components are applied. The framework is designed to provide building blocks that can be tailored and assembled to suit all manner of different contexts.
Key features:
Integrated guide to the management of projects, programmes and portfolios.

Combines knowledge, processes, competence and capability into a single, coherent and integrated framework.

Applicable to all areas in both the public and private sectors.

Full of practical tools and real examples.

It can be tailored for use in many, widely varied contexts.
Alternative formats