Problem Management: A Practical Guide
PDF
Author:

Jim Bolton and Buff Scott III

Publisher:

TSO (The Stationery Office)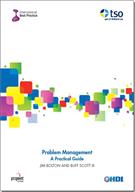 The IT Service Management process known as Problem Management is more than simply restoring services and applying permanent fixes to incidents; it is about providing a stable and available infrastructure that supports business processes and enables the success of the business.
Written by authors who are recognized experts in problem management, this publication goes beyond existing process theory and supplements the HDI Problem Management Professional Certification by including step by step easy to understand examples, real-life scenarios and personal experiences to keep the reader engaged from cover to cover. The process templates, tables, and reports included in the appendix will enable readers to more quickly establish and mature problem management within their organization.
This title is ideal for IT professionals who are working, or plan to work, within problem management, whether in a technical, managerial or operational role.
Key Features:
Consolidates problem management principles and concepts from numerous industry frameworks

Provides clear guidance on how to successfully incorporate problem management activities within your IT organization

Includes recommendations for communicating and measuring the business value of problem management

Helps readers avoid common mistakes by following recommendations from the authors' experiences

Supports and expands upon the HDI Problem Management Professional certification

Includes valuable templates, tables and reports to accelerate implementation
This book provides practical guidance on the design, implementation, and effective execution of problem management. Problem management seeks to reduce and prevent the number and severity of incidents and problems on the business that are caused by errors within the IT infrastructure.
Publication reviews:
'The publication is a comprehensive, readable reference for getting started with IT Problem Management. It would certainly help if readers had a basic knowledge of the ITIL IT service management framework prior to starting to use the publication. Many explanations of principles rely on this knowledge, which in fairness the vast majority of people using this book will have. In addressing process and people aspects, I particularly liked the authors' use of examples. Most were very accessible to the intended audience. The structure of the book lends itself to being both an end to end guide and a reference resource.' Barry Corless, Business Development Director for Global Knowledge and Recipient Of The Paul Rappaport Award For Outstanding Contribution To It Service Management
'Problem Management: A Practical Guide shows problem management to be a core business competency that is critical for the reliability and availability of the technology that makes an organization successful.' David Cannon, Vice President, Consulting Group Director, Forrester
'The ultimate goal of a problem manager is not to manage problems, but to determine how to eliminate them. Problem Management: A Practical Guide will help professionals improve their personal knowledge and skills to investigate the problems that exist within their organization. Organizations no longer need to struggle and experiment with problem management, they can now learn from the experts' Rick Joslin, HDI Executive Director of Certification & Training
'The practical guide to problem management provides excellent guidance on how to implement problem management in a pragmatic, meaningful manner. The book has anecdotes for those who like them, and the years of experience needed to help those beginning avoid the common ditches. Read, review and apply the practices that will facilitate your providing better services to your customers.' John Custy, JPC Group
'The most useful aspect of this book is the authors' ability to provide examples that help the book transcend technology disciplines. This is not a book written specifically for technology support professionals, but rather one that could be used by developers, engineers, system designers, and even those not in the technology organization to understand and implement Problem Management.' Andy Atencio, City of Greenwood Village
'It acts as a great starting point for any IT organisation looking to implement Problem Management for first time but can also be a reference point for organisations with a mature 'bedded-in' process.' Maysam Abedian, Williams Lea Tag
Extent
193 pages
ISBN
9780117082991
Size
n/a
Price

£40.00

Format
PDF
Published
03 Oct 2016
Availability

Available Immediately
Find similar publications here: