Advising Patients About Work: An Evidence-based Approach for General Practitioners and Other Healthcare Professionals
Pack of 25 Leaflets
Publisher:

TSO (The Stationery Office)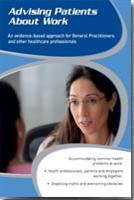 GPs are in a unique position to provide advice about work, which is an important part of clinical management. However, it can be a difficult part of the consultation, which may produce feelings of uncertainty and frustration, and leave both doctor and patient unsatisfied.
The September 2006 review of work and health, 'Is Work Good for Your Health and Well-being?' (ISBN 9780117036949 - available below), provides the scientific evidence from which this leaflet develops a few basic concepts to underpin evidence-based advice. Whilst recognising the complexities of adapting that advice to the patient's circumstances, the principles are straightforward and generic.
The goals are more effective communication, and improved clinical and vocational outcomes.
» Download this leaflet, 'Advising Patients About Work: An Evidence-based Approach for General Practitioners and Other Healthcare Professionals' (PDF - 208KB)