Department for Transport
Show me:
Traffic Signs Manual Chapter 8
Part 3: Update
Author:

Department of Transport

Publisher:

TSO (The Stationery Office)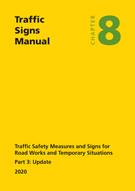 Part 3: Update provides information on changes to the methods used to prescribe traffic signs in the 2016 Traffic Signs Regulations and General Directions. In most cases, the same signs will be used in the same situations as shown in Parts 1 and 2 (2009). This part provides a reference on where the requirements for individual signs in the TSRGD and design information can be found.
This part introduces new options for lane control 'wicket' signs and guidance on how these new options should be applied to different types of schemes. While this part does not replace the design of temporary traffic management arrangements it does provide updates on relaxation schemes and on selecting safe methods of installing signs and other equipment.
More information...
Chapter 8 is intended to provide a standard of good practice for the signing and marking of obstructions. It provides guidance for temporary traffic control necessitated by highway obstructions.
All authorities, bodies and organisations responsible for all types of roads to which the public have access are advised to comply with the requirements of Chapter 8, a condition of contract in the case of works carried out on their behalf.
The Traffic Signs Manual Chapter 8 is applicable in England, Northern Ireland, Scotland and Wales.
Find similar publications here: