A-Z of Scots Education Law - A Guide For Parents
3rd Edition
Author:

Consumer Focus Scotland

Publisher:

TSO (The Stationery Office)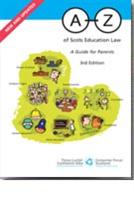 This third edition is a new and updated version of the highly popular reference book, which offers parents an easy-to-use reference guide to the law on all aspects of children's education in Scotland. Covering the key pieces of legislation, it is a valuable source of reference for parents, teachers and advisers in dealings with the educational system. It will help readers to understand and deal with the sorts of decisions, difficulties or problems they may be faced with throughout their child's education.
76 different educational topics, all organised alphabetically, are covered in this A to Z. The guide aims to equip parents, young people and their advisers with the information they need to get the best out of the education system, whilst helping teachers and head-teachers to become familiar with the legal framework in which they work.
Key Features:
Revised edition (replaces 9780114973186) incorporating changes since the previous edition in 2004 and including the latest Scottish Schools (Parental Involvement) Act 2006.

Easy-to-use guide: alphabetised by topics.

Accessible and good value.
Find similar publications here: