Supporting Children and Young People's Learning
A Handbook for Parents when Their Child Needs Additional Support
Author:

Shelly Gray and Jennifer Wallace

Publisher:

TSO (The Stationery Office)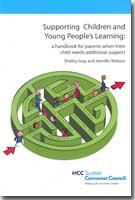 A parent's guide to additional support and learning, this book provides an easily accessible and clear guide to the key features of the 'Education (Additional Support for Learning) (Scotland) Act 2004' (available below), breaking it down into logical sections that demonstrate each key feature clearly and concisely.
The introduction provides an overview of the guide, with background information and definitions, including what are additional support needs and what are parents' rights. The following eight sections deal with everything you would need to know as a parent of a child with additional needs, from finding out if your child has additional needs to what happens next and who is available to help.
This guide, 'Supporting Children and Young People's Learning: A Handbook for Parents when Their Child Needs Additional Support', gives an overview of the planning processes involved with a child with additional support needs, how the different plans relate to each other and an in depth focus on the Co-ordinated Support Plan (CSP).
Key Features:
Accessible format

Includes an overview of all relevant legislation and policy

Comprehensive coverage of resources and assistance available to parents
Find similar publications here: