Birds Of Prey In A Changing Environment
The Natural Heritage of Scotland Series
Author:

Scottish Natural Heritage, British Ornithologists Union, Joint Nature Conservation Committee

Publisher:

TSO (The Stationery Office)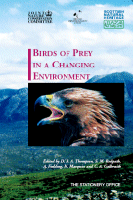 Birds of prey are among the most fascinating and exciting of animals to observe and study. As predators they are at the heart of some of the most contentious conservation issues of the day. The book reflects this interest, and presents substantial new data drawn from amateur as well as professional studies.
Although this book focuses on birds of prey in Britain, it includes work undertaken in Spain, France and Iceland. Taken as a whole, this is a remarkable collection of papers which will excite bird watchers, researchers, land managers, decision-makers and the general public. There are colour illustrations and an index.
Quotes:
"The Editors have done an excellent job throughout, not least because they provide a useful prologue for each theme.."
British Ornithologist's Union, IBIS, 2005
"the first significant overview of British and Irish raptors in more than 25 years"
"brings together a huge amount of information"
BBC Wildlife Magazine June 2004
"a monumental work"
Lochaber News 24 January 2004
"this 550-page book with a comprehensive 14-page index is for the serious raptor enthusiast"
Peregrine Magazine - Spring 2004
"this book will surely act as a bible for those interested in birds of prey."
North Star 24 January 2004
"no-one interested in raptors can afford to be without it"
British Wildlife magazine - May 2004
Find similar publications here: