Life in the United Kingdom A Journey to Citizenship

COVID-19 Update
Test centres remain open for candidates to take their Life in the UK test during the period of the lockdown. If you have any questions or concerns, please contact the test provider.
Addendum:On 31 January 2020 the United Kingdom left the European Union (EU).
Sections of the handbook, Life in the United Kingdom: A Guide for New Residents 3rd edition, which refer to the UK being a member of the EU and its institutions, are out of date and have been removed from subsequent prints of the handbook.
You will not be asked any questions on the EU or the UK's relationship with the EU as part of the Home Office approved test based on the current (3rd) edition of the Life in the UK handbook.
Life in the United Kingdom A Guide For New Residents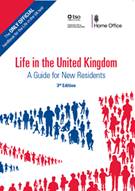 Ensure you are fully prepared for your Life in the UK test with the only official handbook on which the Life in the UK test is based. This essential handbook contains all the official learning material for the test and is written in clear, simple language - making it easy to understand.

Available formats:
Life in the United Kingdom Three Pack Deal
This complete official Life in the UK pack contains everything you need to ensure you are fully pre-pared to pass the Life in the UK test. This pack is for those taking the Life in the UK test and includes three essential publications. Saving you £5.98 when purchased as a full pack.

Available formats:
Life in the United Kingdom Official Practice Questions & Answers
Life in the United Kingdom Official Study Guide
A Practical Guide to Living in the United Kingdom