Management of Portfolios, Programmes, and Projects: A practical guide for leaders and decision-makers
PDF
Author:

Henny Portman

Publisher:

TSO (The Stationery Office)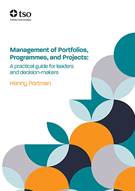 Do you come across daily challenges when managing portfolios, programmes, or projects? No matter what role you have in the portfolio, programme, or project team, you will find practical solutions in this guide to help you perform more effectively and achieve your strategic objectives.
Key features include
health checks for portfolios, programmes, and projects, including management offices

checklists to assess the maturity of your organization

guidance on best practice for portfolio, programme, and project management

key topics and challenges you may face as a manager

roles and responsibilities involved in directing portfolios, programmes, and projects

a glossary of specific terms

a roadmap to quickly find solutions

appendix summarizing roles and responsibilities
Key questions include:
Why hasn't a strategic objective been met?

Why has a project missed deadlines, become more costly, or failed to produce benefits?

How can you communicate or collaborate with a project manager or a team working remotely?

Is risk management in place?

Are the right stakeholders involved?
About the author
With over 40 years of experience, Henny Portman shares his knowledge and offers practical advice on how to achieve success when working in projects, programmes and portfolios.
You might also be interested: Working with people to deliver successful projects, Gillian Perry. Forthcoming from TSO.
Extent
170 pages
ISBN
9780113318391
Size
A4
Price

£35.00

Format
PDF
Published
19 Dec 2022
Availability

Available Immediately