National Clinical Coding Standards ICD-10 5th Edition (2018)
Author:

NHS Digital

Publisher:

TSO (The Stationery Office)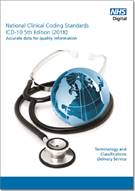 These national clinical coding standards are for use with the World Health Organisation (WHO) International Statistical Classification of Diseases and Related Health Problems, Tenth Revision 5th Edition (ICD-10) when translating diagnoses and other health related problems recorded in a patient's medical record for morbidity coding.
The classification of diagnoses using ICD-10 is a mandatory national requirement for the NHS Admitted Patient Care (APC) Commissioning Data Set (which includes day cases) and other data sets as outlined in the section below.
This reference book of national clinical coding standards is an evolving product and builds on the previously issued National Clinical Coding Standards ICD-10 4th Edition reference book. As the main emphasis of clinical coding is data quality and accuracy, this reference book will focus on the clinical coding standards that must be applied when assigning ICD-10 codes.
Key Features
ICD-10 is a vital component of national data sets, such as:
Hospital Episodes Statistics (HES) in England

Hospital In-patient Statistics (HIS) in Northern Ireland

Patient Episode Data for Wales (PEDW)

Scottish Morbidity Records (SMR)

Cancer Registries

National Service Frameworks

Care Pathways

Performance Indicators

Commissioning Data Sets (CDS)
Find similar publications here: