Fertiliser Manual RB209
Show me:
Contaminated land: Environmental Protection Act 1990 part 2A
DEFRA circular 1/2006
Format:

Corporate Author:

Great Britain Department for Environment, Food and Rural Affairs

Publisher:

TSO (The Stationery Office)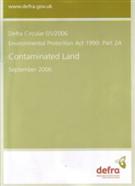 This Circular contains guidance on the extended statutory regime for the identification and remediation of contaminated land, with effect from 4 August 2006, relating to Part 2A of the Environmental Protection Act 1990 (as originally introduced in April 2000) together with changes intended mainly to deal with land contaminated with radioactivity. It sets out a summary of government policy, a description of the regime for contaminated land, statutory guidance, and a guide to relevant regulations and commencement orders. This Circular applies only to England and it replaces DETR Circular 02/2000 (ISBN 0117535443).
Find similar publications here: