Succession to the Crown: - From Charles II to Charles III
eBook version
Author: Russell Malloch and The Gazette
Publisher: TSO (The Stationery Office)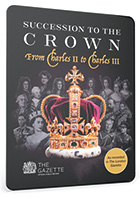 Succession to the Crown is essential reading for anyone with a keen interest in the British royal family and provides an excellent and trusted source of information for historians, researchers and academics alike. The book takes you on a journey exploring the coronations, honours and emblems of the British monarchy, from the demise of King Charles II in 1685, through to the accession of King Charles III, as recorded in The London Gazette.
Historian Russell Malloch tells the story of the Crown through trusted, factual information found in the UK's official public record. Learn about the traditions and ceremony engrained in successions right up to the demise of Queen Elizabeth II and the resulting proclamation and accession of King Charles III.
Succession to The Crown is presented in chronological chapters:
Introduction
James II and VII
William III & Mary II
Anne
George I
George II
George III
George IV
William IV
Victoria
Edward VII
George V
Edward VIII
George VI
Elizabeth II
Charles III
Conclusion
Available from your device's eBook store.

Amazon (opens in new window)


Alternative formats