Driver CPC - the official DVSA guide for professional goods vehicles drivers - eBook
Author:Driver and Vehicle Standards Agency (DVSA)
Publisher: TSO (The Stationery Office)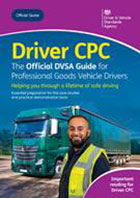 This official book is specifically designed to help prepare goods vehicle drivers for their Driver Certificate of Professional Competence (Driver CPC) test. The book focuses on case studies and vehicle safety demonstrations.
This new edition contains updated information on fuel-efficient driving and trafficking advice.
Five reasons to buy it:
1.Background - explains the process of gaining the Driver CPC and includes information on periodic training
2. CasesStudies - shows how case studies will be presented and explains how to answer this part of the test, with two official examples
3. Practical demonstration test - describes what your'll have to do on the day
4. Full syllabus - explains what you'll need to know in order to pass the test.
Available from your device's eBook store: